Thank you for your interest in some of the best puppies and bloodlines in the world. We dedicate ourselves to ensuring we produce an outstanding puppy that can dominate in the show ring, excel on the field, and have the loyalty, self assuredness and temperament to be a productive member of the family and community. After all, we are breeding for ourselves first and foremost and I want nothing but the best! All of our puppies are raised in the house and are given early stimulation and socialization to help them achieve our goals. We prefer to place our puppies in show and/or working homes but will also place them in loving homes that want the best. We will also consider co-owners for the right homes that show and/or work on a regular basis. We use mainly European bloodlines as they offer more of what we are aiming towards. We use only the best to produce the best. We have an unrelenting desire to produce the best and will spare no effort in making that happen. We will not breed just to breed. Every breeding is well thought out and done for a specific reason, always with the future in mind. For this reason, we use the best studs from around the world and have only the best quality bitches. All of this time and effort produces puppies that are not expensive, but priceless! As the old saying goes, you get what you pay for. If you want the best of the best, you have come to the right place. We will be your dedicated breeder and friend for life.
We are a veteran owned "business" and therefore we try to take care of our fellow veterans. Sometimes we have puppies that are not "show quality" but have great temperament and drive. We like to work with the disabled veterans and the Wounded Warriors Project so we try and place these pets that exhibit therapy dog characteristics into these programs and homes that the programs or PCMs seem fit as possible candidates for these heroes. We also offer a discount to our fellow veterans who can provide proof of honorable service to our country. Of course, they must have the right home and living conditions. Every applicant is screened to ensure these pets are placed in the right home. Unfortunately, just because one has served honorably and dedicated their lives so others may live, does not mean that our country takes care of them financially. God bless America!
We also offer some of our best show and working potential puppies to friends and other show/working enthusiast that we know and see at shows often with different adoption fees and policies. Often is the key word! Clients that are looking to get into show and/or working, once you have proven yourself that you are committed, we can talk about future offspring with a special adoption policy. Showing takes a lot of time, money, and commitment. It is easy to say you will do it, but it is a whole other thing to actually do it. That's why our puppies are not cheap. We put a lot of time, money, thought, care, and devotion, into every dog and breeding we do. Each breeding is done for a certain purpose. We are not just some commercial breeder who imports some junk female bred to some big name male to try and make a buck. Sure, they may do the clearances on the female they imported, but they got rid of her for a reason. Do they show that female here? I doubt it. I doubt they show anything. Just something to think about. We will support our fellow ethical show/work breeders. Teamwork makes the dream work!
Before we do a breeding, we make sure that our females pass all health tests, OFA or foreign equivalent, and only use studs that have all these health clearances as well. We show, work, train, travel, feed the best nutrition, study, select the best mates, and ensure the best environmental conditions possible. No matter how much we charge for a puppy we don't break even. You probably ask yourself why we still do it. Our love and passion for Rottweilers is hard to explain with words. It's an exceptional pride and joy to raise and play with puppies and to watch them grow and thrive into amazing adults. To see them with their new families and how they have changed them and how they have shown them how wonderful this breed is, just warms your heart. Finding appropriate and loving homes for our puppies is very important. Detailed consultation is a must. If you are interested in adopting one of our puppies, send us a detailed email about yourself and your family and why you should be considered as a future home for one of our puppies. We do not breed often, so we advise you to reserve a puppy in advance. You don't just buy the first car or house you see, so please be responsible and look for the best puppy available out there from parents with health clearances and a health guarantee, from proven bloodlines and not for convenience, the breeder that's closest to you, or the breeder that has puppies at the moment you got the idea to get a puppy. A search for your best friend and a family member needs to be more thorough. Also, a cheap/good deal on a puppy is for the uninformed! Remember one thing, the difference between the cheapest and most expensive puppy can be paid in only one vet visit. There is a reason why puppies from winning dogs and all health clearances cost more than puppies from two pets without any accomplishments and just health clearances, or not even that. You get what you pay for. If you are a first time buyer, you will need to do your homework and find an ethical breeder that you can trust! The most uninformed puppy buyers would say, "I am not looking for show dogs. I don't care if the parents are titled, I'm not looking to breed and show". Puppies from show dogs can be pets too, actually excellent pets and companions that are beautiful and healthy too. They are just proven to the standard and tested against genetic health defects. Proving the dog to be worth breeding is the key. This can't be done without attending shows and doing the proper testing. Shows are an expensive hobby! You also have to have nice dogs, which backyard breeders and puppy mills do not have, that's why they do not attend shows and offer a ''deal price'' on their puppies. The deal does not exist; you will only lower the quality of the dog you are getting, not the price, at least not in the long term. Only one vet visit can cover the price difference between the cheapest and most expensive puppy! Not to mention disappointment later on when your super deal puppy stops being cute, not to even mention the disappointment if the puppy has health or temperament issues. If you can not afford a top quality puppy at the moment, please do not do price shopping. Puppies are not items; this is a 10 year investment in your best friend and you can not find a deal. You would just end up getting a poor bred puppy from a backyard breeder or puppy mill. So instead of financing puppymills and backyard breeders with your lack of knowledge and money, get educated! Either save money and get a top of the line puppy from an ethical breeder, from titled dogs out of proven bloodlines and from parents with health clearances and a health guarantee, or contact local Rottweiler rescues and shelters and adopt one! Do your homework before the purchase and you will thank us later!
If your homework and research has led you to us, there are some things you will need to know about our puppy selection process. The Rottweiler is not the breed for everyone and not every Rottweiler is for every home. We breed for the COMPLETE Rottweiler!! These are not lazy, fat, couch potatoes and not a breed that can just be put and left in the backyard. These dogs have energy and drive! They like to work!! They love to be a productive member of the family!! If you're lazy or do not have the time to devote numerous hours per day into training and exercising your dog, this breed is not for you and we are definitely not the breeder for you! This is not to say that at the end of the day they do not love to lay down with you for some loving, but do not expect them to just lay around the house all day eating bon bons either. Also, do not expect to just leave them in the back yard and expect them to trust you, be loyal to you, and be everything a Rottweiler should be. They need to be engaged, stimulated, worked, and trained DAILY!! Just like people, each dog has different personalities, learning styles, trainability, and will thrive better in different environments. That's why it is extremely important that we know as much about the environment the puppy will be going to and the desires and goals of the new family. From the moment the puppies are born, we are watching and studying them, subjecting them to multiple different types of stimuli, watching their reactions to environmental conditions, situations, and objects, how they interact with each other and us, and many other tools that allow us to find out their innate disposition. We try and foster the best in them and stear them in the right direction building upon what they have. We also subject them to series of aptitude tests to help confirm what we are seeing. We evaluate structure and compare it per the standard to ensure none are showing any visible faults and that they have the proper form, function, and locomotion to perform. We are doing all of this for knowledge as well as to develop our puppies into the best that they can be and to set them up for success in their early life.
We do a breeding for ourselves first and foremost, so we always reserve the rights to pick and choose whichever puppy/puppies we want from a breeding. After all, that's the whole reason we are doing it. We usually will not start beginning to know which puppy MAY go where until at the very least 6 weeks of age, and that may change by the time they are ready to leave the pack. From there, we will look at the possible homes, their environments, what they are wanting and trying to achieve, and place the best suited puppy candidate in the rightful home. We do not go off of "you pick your puppy" and you will NEVER have "first pick"!! You do not know the puppies, we do!!! We will talk and discuss about which puppies may be the right match for your home, and we will go from there. This is about ensuring the right puppy is placed in the right home so that both will grow to their fullest potential and be happy. This helps keep puppies out of shelters, being put down, etc. from the wrong puppy being placed in the wrong environment. Our puppies are also microchipped as well as our contract dictates that they shall never be placed in a shelter. We will always take one of our children back! If you do not like our selection process, then we are not the breeder for you and you're not the client we want in our family. Go to someone that will place any puppy with anyone, because they're just trying to make a buck. It definitely will not hurt our feelings.
Our puppies NEVER leave before 8 weeks of age and we will keep some through 12 weeks of age (or even longer) to provide the proper socialization, stimulation, and individual training needs during this initial behavioral fear period that is so crucial to their mental development. Ones that we may be trying to decide between for ourselves, we may hold onto even longer to see how they develop before making a decision. Usually these are the "show/working" hopefuls that we are watching. Sometimes we may also hold onto a couple for up to a year or so, showing, training, and developing them before making a decision and will place one as a youth to the correct home once we have finally made a decision. Most of the time we are looking for show/working homes and/or co-owners for these youth, unless something came up during their growth that becomes a fault, like a bite going off, poor pigmentation, or maybe just has something that we're trying to improve on and it doesn't meet our needs. If it ends up with an eliminating fault, then we will look for the perfect forever home for the puppy. You never know what's going to happen with genetics. All we can do is research thoroughly, health test, ensure they conform to the standard, and make the best breeding decisions possible to ensure the best outcome in reaching our goals. We can't keep every puppy, that's why we look for the perfect co-owners for other ones that are displaying exceptional qualities that we are searching for to carry on the lines.
We hope this helps you better understand about our puppies as well as some of our philosophies. Our goals are to better the Rottweiler breed by breeding the complete Rottweiler who has the desire, drive, and confirmation to dominate in any venue and one that is geared towards our tastes as it is compared with the standard. If you have any questions, please don't hesitate to ask. If we do not have what you are looking for, we know other ethical breeders we can refer you to. Thank you and have a blessed day!
LOOK FOR SOME SUPER BREEDINGS IN 2022!!!! Contact us for further details. 205-807-0918 or hkrotts@gmail.com
Planned
Ultimo vom Hause Neubrand - to be bred to -Gysa vom Hartenkern
Sire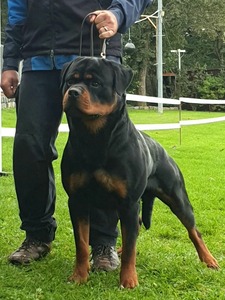 View Profile
ANW. DT. VDH-JCH
J-CAC
Multi V-1
IGP I
BH
ZTP
HD Frei (Excellent)
ED Frei (Normal)
OFA Heart Normal ECHO
JLPP Clear
Dam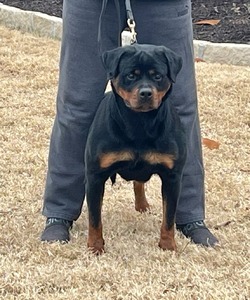 View Profile
Siegerin
BOS
RKNA Best Puppy
Multi V-1 Rated
Multi VP-1 Rated
OFA Hips Good
OFA Elbows Normal
OFA Patella Normal
OFA Cardiac Normal Cardiaologist
OFA Heart Normal
OFA Dentition Normal
JLPP Clear