Thank you for your interest in some of the best puppies and bloodlines in the world. We dedicate ourselves to ensuring we produce an outstanding puppy that can dominate in the show ring, excel on the field, and have the loyalty, self assuredness and temperament to be a productive member of the family and community. After all, we are breeding for ourselves first and foremost and I want nothing but the best! All of our puppies are raised in the house and are given early stimulation and socialization to help them achieve our goals. We prefer to place our puppies in show and/or working homes but will also place them in loving homes that want the best. We will also consider co-owners for the right homes that show and/or work on a regular basis. We use mainly European bloodlines as they offer more of what we are aiming towards. We use only the best to produce the best. We have an unrelenting desire to produce the best and will spare no effort in making that happen. We will not breed just to breed. Every breeding is well thought out and done for a specific reason, always with the future in mind. For this reason, we use the best studs from around the world and have only the best quality bitches. All of this time and effort produces puppies that are not expensive, but priceless! As the old saying goes, you get what you pay for. If you want the best of the best, you have come to the right place. We will be your dedicated breeder and friend for life.
We are a veteran owned "business" and therefore we try to take care of our fellow veterans. Sometimes we have puppies that are not "show quality" but have great temperament and drive. We like to work with the disabled veterans and the Wounded Warriors Project so we try and place these pets that exhibit therapy dog charcteristics into these programs and homes that the programs or PCMs seem fit as possible candidates for these heroes. We also offer a discount to our fellow veterans who can provide proof of honerable service to our country. Of course, they must have the right home and living conditions. Every applicant is screened to ensure these pets are placed in the right home. Unfortunately, just because one has served honerably and dedicated their lives so others may live, does not mean that our country takes care of them finacially. God bless America!
We also offer some of our best show and working potential puppies to friends and other show/working enthusiast that we know and see at shows often at a discount. Often is the key word! Clients that are looking to get into show and/or working, once you have proven yourself that you are commited, we can talk about future offspring at a discounted rate. Showing takes a lot of time, money, and commitment. It is easy to say you will do it, but it is a whole other thing to actually do it. That's why our puppies are not cheap. We put a lot of time, money, thought, care, and devotion, into every dog and breeding we do. Each breeding is done for a certain purpose. We are not just some commercial breeder who imports some junk female bred to some big name male to try and make a buck. Sure, they may do the clearances on the female they imported, but they got rid of her for a reason. Do they show that female here? I doubt it. I doubt they show anything. Just something to think about. We will support our fellow ethical show/work breeders. Teamwork makes the dream work!
LOOK FOR SOME SUPER BREEDINGS IN 2019!!!! Contact us for further details. 205-807-0918 or hkrotts@gmail.com
Planned
Joop vom Nienburger Land - to be bred to - Cim von der Alten Welt (Cimi)
Dam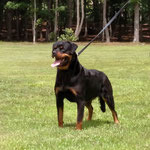 View Profile